IsoGtr      Add to Cart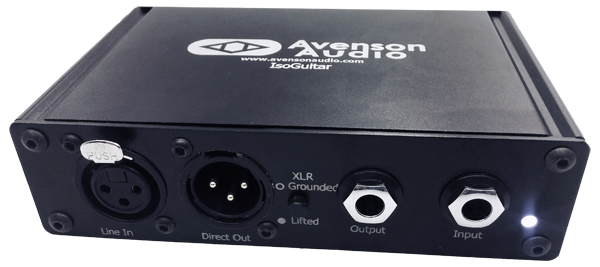 The IsoGtr expands on our circuitry of the
IsoDI
by adding 3 additional transformer isolated instrument outputs to serve as an isolated signal splitter for sending your guitar or instrument signal to up to 4 amplifiers or effects chains (3 transformer isolated + 1 Buffered Main Output), our same ultra-clean wide bandwidth unity gain FET Buffered DI output (XLR), as well as an XLR Line input for Re-amping to any of the available instrument level outputs, all powered conveniently with an external DC power supply.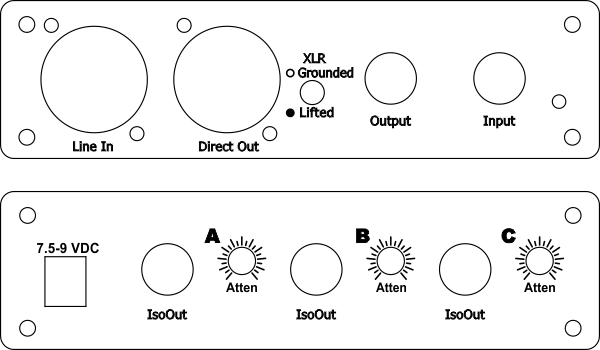 Housed in an extremely rugged 3.33″ x 5.25″ anodised aluminum extruded box (you know… the same type as our IsoDI that we ran over with a van to test under the most extreme tortures of the road). Built with high quality Neutrik TRS and XLR jacks, the IsoGtr will not only be a piece of gear you can trust to perform flawlessly on stage, but also a welcomed high quality part of your signal chain in any professional recording studio.
Specifications
Topology
(1) transformerless FET out, (3) transformer isolated outs
Input Impedance
10 MΩ (instrument in)
Input Overload Level
+12 dBu at 1% THD (instrument in)
Gain
-0.2 dB
Frequency Response
10 Hz – 100 kHz (+0/-0.25 db)
Signal to Noise (A-weighted)
≥ 108 dB
Output Impedance
150Ω (load ≥ 1kΩ )
Power Requirements
7.5-9 VDC external Power Supply
(~20 mA)
Size
3.33 x 5.25 x 1.37 inches85 x 133 x 35 mm
Weight
14.2 oz (402.5 g)

Add to Cart

If you have any further questions regarding the IsoGtr please feel free to contact us.