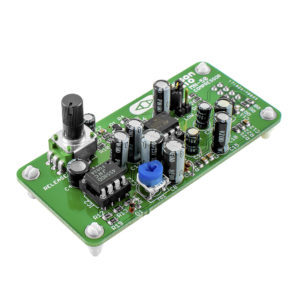 The Avenson Audio Smash Compressor Colour is a simple FET compression circuit based off the built in 6:1 ratio compressor in the MN-50 Mixer made by Fostex Corporation in the 80s. This cheapo mixer/compressor combo unit is much loved in the inexpensive gear world for it's ability to acheive some explosive, trashy, and dirty drum compression sounds.
We decided it would be a great idea to redesign this circuit for the Colour 500-Series format with a few small improvements for ease of use in the modern recording envirornment. Thanks to the format, the unit is easily implemented in an XLR balanced line level system, unlike the original which used unbalanced RCA ins/outs. We also fixed an overall volume loss on the output by adding a set makeup gain stage in our circuit. The final addition was an input pad selectable via a 2 pin jumper (High & Low) for getting more range of compression out of this unit.
Features:
Adjustable release
"High" and "low" input gain selectable via solderless jumper
Compatible with the DIYRE Colour format.
This unit can be purchased direct from our online shop as a fully assembled and tested Colour module, or visit diyrecordingequipment.com to buy a through hole version pcb only to assemble yourself as a kit.
Check out the full drum kit samples below for awesome compressor smashing tones!