The STO-2 is a pressure transducer. So are your ears. No
Coincidence. We started out looking for a natural sounding mic and this is
what we came up with.
Sold in matched pairs, (two ears right?) the STO-2's are perfect for
capturing instruments that need no flattery. With a matched pair, stereo is
no problem – Jecklin disk or spaced pair – it will sound like you are
standing there.
Specifications
| | |
| --- | --- |
| Transducer Type | 0.25″ Electret condenser pressure |
| Polar Pattern | Omni-Directional |
| Output Level | 5.25 (mV/Pa) |
| Frequency Response | 20 Hz – 20 kHz (+0/-2 db) |
| Equivalent Noise (A-weighted) | 28 dB |
| Maximum SPL | 145 dB (with 48V powering) |
| Output Impedance | 20Ω (load ≥ 1kΩ ) |
| Power Requirements | P48 phantom power (~6 mA) |
| Weight | 3.6 oz (100 g) |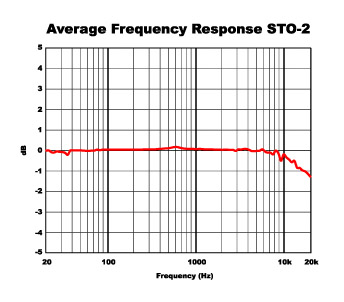 The graph looks a bit bumpy until you check out the scale.
Mics are matched to within 1/2 dB difference in sensitivity. Then every set
of mics goes through a final listening test
Check out our applications section for more ideas.
Made in the USA from solid aluminum, the mics are built to
withstand the rigors of the studio or the road. At only 5″ long and 1″
around they are easy to position and fit in standard mic clips.

For more information contact us
What are people saying?
Just want to let you know how I'm constantly blown away by my pair of STO-2's … they've proceeded to become my favorite overhead mic as well as for acoustic guitar when paired with a ribbon. Stunning!
don gunn – dongunn.com
It's nice to hear people, who know nothing about these mics (and very little about audio recording), spontaneously comment on how good their respective instruments sound!
Joachim Smith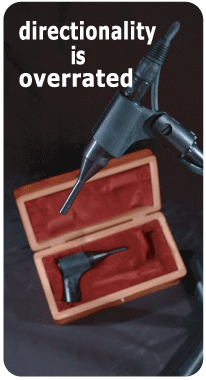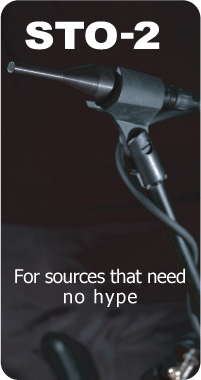 Included Accessories